Whether you want to re-design a room in your home or just dip your toes into the world of Interior Design join us for the next 5 weeks.
Do you feel overwhelmed by the inspiring images on Pinterest, Instagram and in magazines? Or are you struggling to find that inspiration, make that all-important start or follow through with a renovation?
This 5-week course with Interior Designer Aleksandra J. Hannah of Edinburgh-based Skela Studio will show you the processes that Interior Designers go through when working on their projects. A course that will give you the skills and confidence to tackle any Interior Design project. We meet every week from 6 pm-7 pm BST online, every Tuesday for 5 weeks. In addition I will be supporting your progress during that period.
WHAT PREVIOUS PARTICIPANTS HAVE TO SAY:
"Thank you for such a great class, can't wait to do more! You provided us with such great skills that will last a lifetime. Will definitely keep in touch! " -Brodie Sim
"Current living room situation – chaos. Hopefully not a too distant situation, cosy, homely, less chaos… Thanks, Skela Studio for the five past weeks of interior design inspiration and guidance. " -Eileen Inglis
"This course gave me extra confidence to experiment with interiors. As a Fashion Designer, I have been brave in using colour but with Skela Studio I've learned so much more about layout, texture, lighting… My husband is also very keen to go on this course. " -Tanya Marinich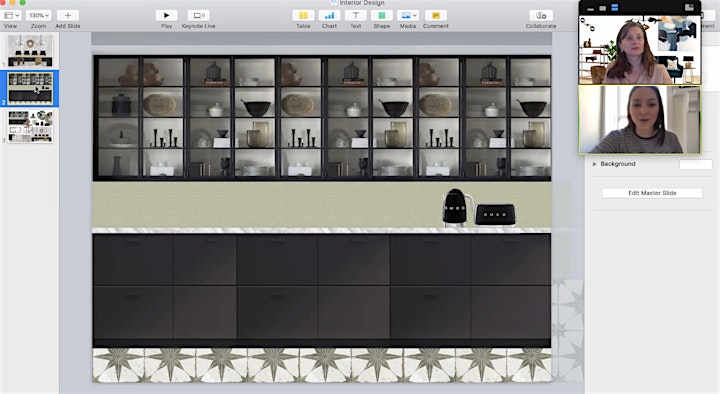 COURSE DESCRIPTION
This course is live and you will get the help and support of an interior designer for the duration of the course. Please note that most of the online courses don't offer such interaction.
Over 5 weeks, we are meeting online using Zoom once a week, from 6 pm – 7 pm. There is a presentation on a different aspect of interior design followed by conversations on the ongoing projects.
Every week you receive follow-up materials on an interior design principle, like colour, lighting, floor planning etc.
SOME OF THE THINGS WE COVER
Week one:
Write an interior design brief
What is your interior design style
Week Two:
Doing mood boards
Different ways of visual presentation (drawing is not the only option)
Week three:
How to do an interior design survey and draw floor plans and sections
Colours in interiors and how to use them
Week four:
Pattern and texture for interior design
Week five:
Lighting for interior design
Presentation boards, sample boards and shopping lists
ENTRY REQUIREMENTS
No previous experience is necessary.
This course has helped many to improve their homes and few people to kick off their careers in Interior Design.
PRICE
£145
REFUND POLICY
30 days before the start of the course
VOUCHERS
Available from our website they are a great present for an interior lover. Valid for a year.